Watch: Dancing FBI agent drops gun doing backflip, shoots man in leg
Comments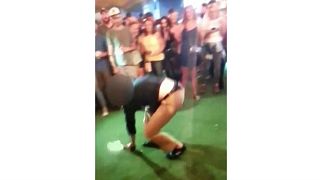 An FBI agent accidentally shot a man in a bar after a dance move went wrong.
Video shared on social media shows the agent's gun falling from his waistband as he dances and does backflips in a Denver bar.
When the agent went to pick the gun up it accidentally goes off in his hand, letting out a flash of light.
A man in the crowd was shot in the leg and taken to a hospital but was expected to recover fully, according to police officials.
The unnamed agent was questioned at Denver police headquarters before being released to an FBI supervisor.
It is unclear if he will face charges or disciplinary action.