France: Railway workers strike continues as government prepares to vote on reforms
Comments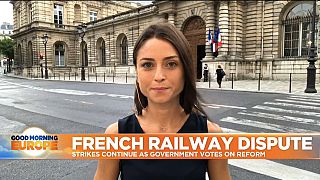 It's a big week for the French government and rail workers who have entered their third month of strikes.
A vote is taking place in the senate in Paris on Tuesday 5 over plans to reform the rail sector.
While the bill has been amended to accomodate certain demands by unions, the proposed legislation doesn't meet some of their key requirements, such as the upholding of 'cheminot' status.
Euronews Correspondent, Anelise Borges spoke to one striker to find out what they are fighting for.