Twitter mocks Trump over giant letter from Kim Jong-un
Comments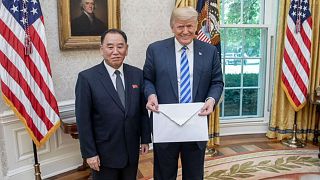 US President Donald Trump announced on Friday that a highly-anticipated meeting with Kim Jong-un is back on, after receiving a letter from the North Korean leader.
Trump described the letter, hand-delivered by senior North Korean official Kim Yong-chol, as "very nice" before admitting that he hadn't actually read it yet.
But it was the large size of the delivery that got many social media users talking.
People took to Twitter to share mock photographs of Trump holding the large letter, poking fun at the unusual size of the envelope.
Others compared the delivery to a novelty greeting card or an envelope used in a game show.
Trump is set to meet Kim on June 12 in Singapore for an unprecedented nuclear arms summit, which he had previously said was cancelled because of Pyongyang's "open hostility."
"I think it's probably going to be a very successful, ultimately a successful process," the US president told reporters on the White House lawn.
"We're not going to go in and sign something on June 12th, and we never were. We're going to start a process. And I told them today, 'Take your time, we can go fast, we can go slowly,' but I think they'd like to see something happen," he said.