Missing Russian pilot found alive 30 years after being shot down in Afghanistan
Comments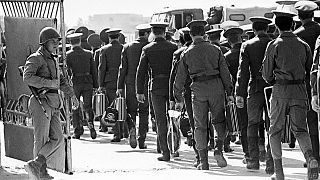 A Russian war pilot who was presumed dead for some 30 years after his plane was shot down during the Soviet invasion of Afghanistan has been found alive, according to military officials.
"He is still alive. It's very astonishing. Now he needs help," the head of the Russian paratroopers' union, Valery Vostrotin, told the state-run RIA Novosti news agency.
Vostrotin said the return of the pilot, whom he declined to name for reasons of confidentiality, would require "not only financial but also administrative, civil society and diplomatic efforts."
The missing pilot was shot down in 1987 and was likely to be over 60 years old now, Vyacheslav Kalinin, deputy head of veteran's organisation Battle Brotherhood, told the news agency.
Kalinin said the pilot now wants to return home to Russia.
During the course of the war, which spanned from 1979 to 1989, 125 Soviet planes were shot down in Afghanistan, RIA Novosti reported.
When Soviet troops pulled out of the country in 1989, some 300 soldiers were listed as missing.
Around 30 have since been found and most returned to their home countries, AFP news agency reports.