Aid agencies warn of Syrian refugee funding shortfall
Comments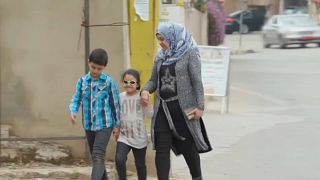 Vital services for Syrian refugees could be in danger as aid agencies reveal a critical gap in funding.
Humanitarian organisations asked international donors for almost 5 billion euros to support 5.5 million Syrian refugees forced to flee their homes.
But almost half way through 2018, only 18 to 22 percent of required funds have been given.
And agencies warn the consequences will be felt immediately.
"The lack of funding for WFP (World Food Programme) will have direct impact on the nutritional status of the people, mainly women and children, but not only that, " says Muhannad Hadi of the World Food Programme. "We have seen the result of food cuts in the region has an impact on the education which is something extremely important in this region and we don't want end up with a lost generation."
Turkey, Lebanon and Jordan have hosted the majority of Syrians fleeing conflict.
Aid agencies warn cutting services could threaten social stability in host countries.
Economic growth in Lebanon is around 2 percent a year down from 8 to 10 percent before the war, straining public services and increasing competition for jobs.