Italian political crisis causes jitters in financial markets
Comments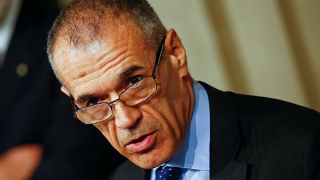 Italy may call a snap election as early as July after prime minister designate Carlo Cottarelli failed to secure support from major political parties for even a stop-gap government.
Officially he is due to announce his government today after leaving his meeting yesterday with president Sergio Mattarella without making a comment.
Earlier hundreds of supporters holding Italian and 5-Star Movement flags marched through Naples to protest at the president's decision to quash a 5-Star Movement and League government.
The populist parties' effort to form a government foundered on their choice of an anti-euro figure as economic minister, rejected by Mattarella.
That's thrown Italy into political and financial turmoil.
There has been a sell-off of Italian bonds, a fall in bank shares and the euro has hit multi-month lows.
Investers are concerned that the anti-austerity, eurosceptic 5 Star and League could increase their majority at the next election.