More violent clashes in Nicaragua
Comments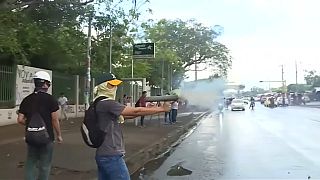 There has been another round of violent protests in Nicaragua.
More than a month after changes to the social security system triggered protests, anger at the subsequent crackdown has transformed into calls for a complete overhaul of the economic and political system.
At least 77 people have been killed and more than 800 wounded in the recent violence.
On Monday students clashed with police and attacked a pro-government building while calling for President Daniel Ortega to step down.
The Organisation of American States said last week Ortega should hold early elections, but he has shown no sign of heeding the call.
There have been calls for mass anti-government demonstrations on Wednesday.