Flood waters recede in Maryland leaving everywhere coated in mud
Comments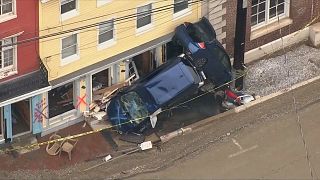 Aerial video footage of Ellicott City in the US state of Maryland shows the devastation after flood waters ripped through the centre 24-hours earlier.
Local government officials say their immediate priorities are finding a missing man and assessing the condition of damaged buildings that housed shops, restaurants and families.
For now, the Main Street area remains blocked off as teams of engineers survey the heartbreaking mess.
Heavy rain sparked the torential waters which tore through Ellicott City.
It's the second time in two years the region has been hit by flash floods.