Watch: Competitors tumble down hill at annual UK cheese-rolling race
Comments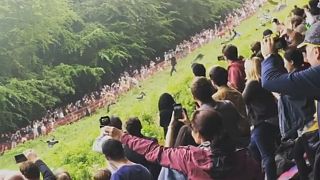 Thousands of spectators gathered on Monday to watch the annual cheese-rolling race in Gloucestershire, England, where a veteran contestant broke the all-time record for the most cheeses won.
The event saw competitors hurl themselves down the famous Cooper's Hill, chasing wheels of Double Gloucester cheese as huge crowds cheered on the centuries-old tradition.
Chris Anderson, 30, won the first and third of three races, making cheese-rolling history.
The former soldier has now taken home a record-breaking 22 Double Gloucester cheeses — the prize for winners — in the past 14 years.
It "feels brilliant to have the record," Anderson told Euronews, adding that he's away on holiday during next year's event so will decide in 2020 whether or not to compete again.
As for his historic prize, Anderson, who doesn't like Double Gloucester cheese, said it will be shared with his family.