Migrant rescues child dangling from balcony, gets new life in France
Comments
By Linda Givetash and Emmanuelle Saliba and Nancy Ing and Reuters with NBC News World News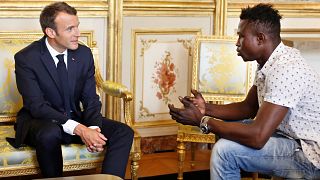 -
A migrant who climbed four stories up a building to rescue a child dangling from a balcony has been offered French citizenship for his efforts.
President Emmanuel Macron met with 22-year-old Mamoudou Gassama on Monday to thank him personally after videos capturing the spectacular rescue went viral on social media over the weekend.
The footage shows Gassama, who is originally from Mali, pulling himself up from one balcony to the next to reach the child.
Two people in the neighboring unit tried to hold onto the child as onlookers cheered Gassama on as he scaled the Paris building's façade on Saturday.
Le Parisien newspaper reported that Gassama was walking by when he saw a gathering in front of the building and leapt to action.
"I did it because it was a child," the paper quoted him saying. "I climbed. … Thank God I saved him."
"His heroic gesture was an example for all citizens."
It remained unclear how the child ended up on the balcony's ledge.
Macron invited Gassama to the presidential palace.
"I told him to him that to show our gratitude for this heroic act, his immigration status in France will be officially recognized as soon as possible," Macron tweeted. "I have also invited him to apply for citizenship."
Paris Mayor Anne Hidalgo said she also spoke with Gassama by phone to thank him for his heroism.
She said Gassama told her that he arrived from Mali a few months ago and wished to stay in France.
"I replied that his heroic gesture was an example for all citizens and that the city of Paris will obviously be keen to support his efforts to settle in France," Hidalgo said.
Linda Givetash reported from London, Nancy Ing from Paris, and Euronews' Emmanuel Saliba from Lyon, France.