Real Madrid fans take to streets to celebrate Champions League final victory
Comments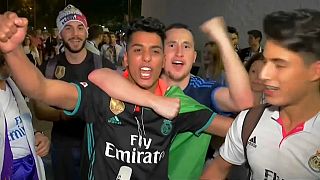 The partying went on late into the night as Real Madrid fans celebrated their 3-1 win over Liverpool FC and their third Champions League title in a row.
The team is expected to parade through the streets of the Spanish capital on Sunday
One fan summed up the mood of the crowd: ''This is the best team in history, this is not going to happen ever again. We are the best.''
The game came alive in the second half when Karim Benzema seized on the Liverpool goalkeeper Loris Karius mistake.
In an attempt to throw the ball to his teammate, Karius inadvertently slotted Benzema in for Los Blancos.
Liverpool was able to equalise in the second half but Gareth Bale's incredible overhead kick left everyone stunned.
He then scored the final goal after another mistake from Karius, who mishandled Bale's shot and the cup was well on its way back to Madrid.
Liverpool manager Juergen Klopp voiced sympathy for the German goalkeeper who was distraught and reduced to tears by the end of the game.
The team's fans also refused to blame Karius for the night's loss and instead applauded his apology after the game.
Other international players and football teams took to social media to show sympathy and support for the Red's goalkeeper.