As it happened this morning, Thursday, May 24
Comments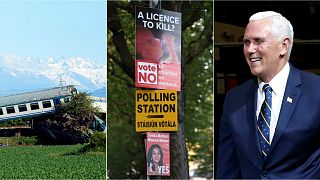 Here are the main developments from this morning:
**MH17 disaster :**Prosecutors investigating the downing of flight MH17 over eastern Ukraine in 2014 said  they had identified the missile used to shoot down the plane as coming from Russia's armed forces.
Train crash: Two people die and 18 are injured after a train in north-west Italy collides with a lorry.
Abortion vote: People are returning to Ireland ahead of Friday's referendum on whether to relax the country's abortion laws.
You can follow how the morning unfolded in the blog, below: