'Our bloodshed worth less than that of the West': ex-Afghan intelligence chief
Comments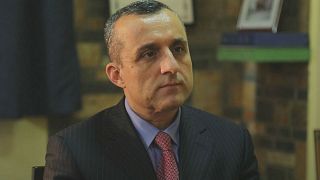 The lives of Afghan citizens mean nothing to the countries that surround it, ex-intelligence chief Amrullah Saleh told Euronews.
"Our location is our poison and the lives of our people mean nothing to our neighbours compared to our location," said the outspoken Afghan politician.
Saleh singled out Pakistan, whose actions he said were costing civilians their lives.
Western media, he said, is unconcerned about the plight of the Afghan people, as they don't report on the loss of hundreds of lives in the country, whereas when one person dies on their territory it makes headlines.
Saleh's position on Russia was clear saying the country could be "game changers" in Afghanistan if they wanted.
How does he see his country and what is its Achilles heel? "Afghanistan is a proud, zealous nation with a weak government," he said.
For things to change the country would need "national unity and a strong government".