Why does everyone keep asking if they can use my data?
Comments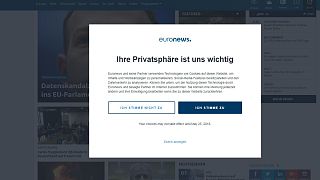 If you live in the European Union (or even if you don't) you might have noticed that a lot of people whom you don't know have started asking you if they can use your data.
You might have been getting emails or letters or messages when you open websites.
What's going on?
The European Union is introducing the General Data Protection Regulation, also known by its catchy acronym GDPR on May 25th, 2018. This requires companies who collect information about you to get your permission.
So they were collecting information without my permission before?
Not necessarily. You may have given them your information on an online or paper form. Or they might have gathered it when you visited their website by using something called "cookies".
EU rules already demand that companies tell you when they are using these cookies to track and register what you click on. You've probably seen the notifications like the one Euronews uses.
But the EU has decided that this wasn't fair because the only option for users who don't want their data to be collected is to leave the website.
The new rules demand that websites give users the option to decide what data they are willing to share without preventing them from seeing the site.
Why do companies want this data?
There is a range of reasons. At Euronews, for example, we use data about what stories people read and how long they spend watching videos to help guide our editorial decisions. Without this, we wouldn't know what topics our audiences found interesting.
We also use information about user behaviour to help improve the design of our pages.
And because Euronews relies on advertising to fund its work, we use data about our audiences to ensure they see advertising which is relevant to them.
Other companies collect data for different reasons - for instance because they want to know who to send offers and promotions to or to register guarantees for products or calculate insurance rates.
What should I do?
The new rules give you the power, as a consumer, to decide what information you want to share and with whom. You can decide who you trust to look after your personal information and you can see exactly what is being collected.