Fresh claims over an asylum scandal at Germany's refugee agency
Comments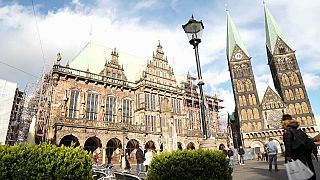 There are fresh claims over an asylum scandal at Germany's refugee agency.
It's understood The Federal Office for Migration and Refugees (Bamf) in Bremen, knew about possible wrong-doing earlier than first thought, since February last year, and officials are suspected of taking bribes to approve applications.
Opposition parties are putting pressure on the Interior Minister Horst Seehofer,
The 68 year old is the biggest employer of the Federal Office.
It's after 1,200 asylum seekers cases were approved even though they didn't meet the relevant requirements between 2013 and 2016.
According to the German press, it's reported, internal emails allegedly show that the responsible department head called for an examination to be carried out, "without fuss" and without too much detail.
These claims have been rejected by the Federal Office's headquarters in Nuremburg.
Decisions on 18,000 asylum approvals made in Bremen since 2000, will now be checked