Cougar mauls cyclists, kills one in Washington
Comments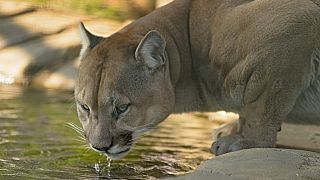 One man has died and another has been left seriously injured after they were confronted by a cougar while cycling in Washington state on Saturday morning.
The cyclists were riding on a remote road in North Bend, 48km east of Seattle, when the attack happened.
Alan Myers, of the Washington Department of Fish and Wildlife (WFDW), told KOMO News: "It sounds like they were just riding bikes when of the victims hears a scream from his partner and sees they're being chased by a cougar."
He added that the wild cat had caught one rider's head in its mouth when the other victim ran away and distracted the beast, prompting it to give chase.
The freed cyclist, 31, then managed to retrieve his bike and cycle for two miles for a reception to call the authorities.
Law enforcement told reporters that they rushed to the scene to find the beast standing over the other man's dead body. The animal was shot at but it quickly fled.
King County Sheriff spokesman Sergeant Ryan Abbot said the 32-year-old man who died had been dragged to the wildcat's den.
WDFW officials eventually tracked down the animal with hound dogs before shooting and killing it.
Such attacks are incredibly rare, according to authorities, with Saturday's incident being only the second known deadly cougar attack to happen in Washington state for 100 years.
The surviving cyclist is being treated in a Seattle hospital with serious, but non life-threatening injuries.