Windsor thronged with cheering spectators for royal procession
Comments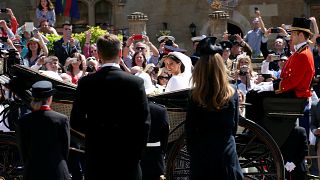 A royal wedding is much about the crowds outside as well as the invited guests. It's the people on the streets that really give the event that special atmosphere. Tens of thousands of people from all over the world turned the streets of Windsor red, white and blue. Euronews heard from some of them.
"It was so exciting, we couldn't sleep, said this woman with her children. "We woke up at quarter to four this morning and we came from Enfield, North London just to be here for the day."
"The singing in the choir was amazing and the gospel choir was beautiful," said another married couple. "Very dignified but with elements of tradition and certainly when they were exchanging vows and looking at one another so lovingly. Lots of cheers here and corks popping, confetti throwing and obviously we joined in with the singing."
The size and cheers of the crowds lining the streets of Windsor must have left the newlyweds in no doubt of the enduring popularity of the British royal family. Many in the crowd had been there since the early hours of the morning, not just to catch a glimpse of the royal couple, but to watch the wedding service on the giant screens.
"Meghan is so elegant, so stunning, just so simple but beautiful, yes!" said this woman.
"You're in Cinderella, all the story, we are dreaming. I'm shaking like I can not stop my heart," another woman added.
People were simply enjoying the moment, immersed in the story of when Harry wed Meghan.