US Texas school gunman charged with murder
Comments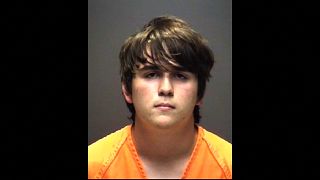 Ten people have been killed and 10 more injured after a student opened fire at a Texas high school.
The gunman, who was allegedly armed with a shotgun and a revolver, entered Sante Fe High School south of Houston as classes began on Friday morning.
Officials said most of the dead were students.
"It's impossible to describe the magnitude of the evil of someone who would attack innocent children in a school, a place of learning where parents should be able to send their children without fear for their child's safety.," said Texas Governor, Greg Abbott. "One of the frustrating things in the early status of this case is, unlike parkland unlike Sutherland Springs, there were not those types of warning signs. We have what are often categorized as red flag warnings and here the red flag warnings were either nonexistent or very imperceptible."
The attacker, who was arrested and charged with murder, was identified as Dimitrios Pagourtzis, a 17-year-old pupil at the school, who allegedly used weapons legally owned by his father to carry out the shooting.
He was also believed to have been in possession of explosive devices.
US President Donald Trump sent a message of condolence to the families and friends of the victims.
"This has been going on too long in our country. Too many years. Too many decades now," he said. "We grieve for the terrible loss of life and send our support and love to everyone affected by this absolutely horrific attack."
The gunman had allegedly planned to commit suicide after carrying out the attack, but changed his mind and surrendered to police.