Student school walkout marks a month since Florida shootings
Comments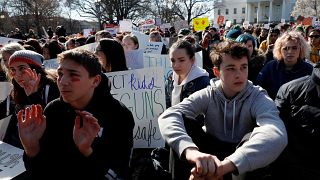 One month on from the Florida school shootings, US students stepped up their gun control campaign on Wednesday.
A nationwide classroom walkout saw protests in Washington, where some sat down with their backs turned to the White House, and far beyond.
The message addressed to those in power was "enough is enough".
"We're turning our backs against the people who won't stand up for us." said 18-year-old high school student Catherine from Maryland.
"We're hoping that will get their attention and they will start to represent what we're fighting for."
Also in Washington, fellow Maryland high school student Alexander, 16, said:
"We want a bump stock ban. We want assault weapons bans in all states. We want our Congress people to stop taking money from the NRA. And finally, and most importantly, we want the background checks to be reinforced. We want more background checks. We want it to be really hard to get a gun."
"We don't feel safe in schools anymore," said Sarah Chatfield, another Maryland student.
"Trump is talking about arming teachers with guns," the 15-year-old said.
"That is not a step in the right direction."
Like NBC, Snapchat recorded the wave of classroom walkouts across the country.
While many school districts gave their blessings for the protests, others warned of discipline for any students who joined the walkout, though many defied the warnings and left school anyway.
Across the time zones, at 10am, lessons stopped for 17 minutes in memory of the 17 people shot dead at Marjory Stoneman Douglas High School.
The massacre on 14 February was the latest in a series of shootings that have plagued US schools and colleges since the Columbine attack.
For students who survived the massacre in Parkland, Florida, a group hug on the school football field was a moment of strong emotion.
Several US TV channels halted broadcasts to show their support.
The walkouts were part of a burgeoning, grassroots movement that grew out of the Parkland attack.
Some survivors have lobbied state and federal lawmakers, and even met with President Donald Trump, to call for new restrictions on gun ownership, a right protected by the Second Amendment of the US Constitution.
with Reuters