'How did this happen?' Shock turns to sorrow in Santa Fe
Comments
By Suzanne Gamboa and Phil Helsel with NBC News U.S. News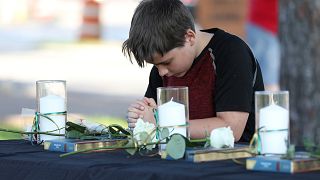 -
SANTA FE, Texas — For Mike Phillips, it's the place he grew up and raised his family. For Alex Castillo, it's where she was on the drill team and cheered on the high school football team. For Chelsey Lummus, it's the Cinderella blue ball gown she wore to prom.
This is the small town that residents spoke of almost nostalgically Friday, as everything that Santa Fe, Texas meant to them seemed to slip into the past tense after a student opened fire in the local high school and stopped the lives of nine students and a teacher.
"Santa Fe is neon lights for baseball and football games. It's a community that everyone knows everyone," said Lummus, 24, who graduated Santa Fe High School in 2012.
"Santa Fe has always wanted to be put on the map. We wanted to be put on the map for our sports and academics, and we're put on the news right now for a kid that killed people in our community."
On Friday, residents here had risen early to get children to school. Eighth-graders at the middle school were looking forward to their class trip to Schlitterbahn, the water amusement park in Galveston that is an oasis on the increasingly hot days of late May in Texas. The weekend would be a time to get yard work done and finish chores and celebrate the birthday of a grandmother turning 90.
But a few hours into the morning, Rose Strickland, who lives near the high school, suddenly saw local teenagers pulling themselves over the red-stained wood fence of a neighbor's property and running down her street.
She heard the bam-bam of what she thought must be a law enforcement response to something terrible. Her heart raced as she feared for her granddaughter, a student at the high school. She later learned that her granddaughter was safe, but had a friend who had been injured.
"It's all a mess. You try to get it all to soak in," Strickland said outside her home, which beckons with a tall wood sign that says "Welcome."
Santa Fe, a town of 13,000 residents south of Houston, huddles around Texas State Highway, a main road lined with churches, chain stores and farm equipment rentals. Leafy trees shade wide-set houses near the high school, perpetuating the "country" feeling that locals say brought them or kept them here.
Hours after the shooting, hundreds of residents and some from nearby towns gathered in the parking lot and grassy area behind the Texas First Bank for a vigil. The circle was so deep and wide that many couldn't get a view or had trouble hearing.
But they could still share hugs and tears with neighbors and hold hands in prayer.
"I feel kind of numb," said Melinda Cabe, 14, who was one of the eighth-graders who had been looking forward to her class trip to the Schlitterbahn. "It's probably going to kick in tomorrow." Her mother is a teacher at the high school, and Melinda couldn't immediately reach her during the shooting. "My mom wasn't replying and I started freaking out," she said.
Melinda's mother got out safely but was close with one of the people believed to be killed.
"How did this happen? It was just supposed to be a great day," Melinda said. "We were just supposed to be going to Schlitterbahn and now I'm being told that people are dying at the high school. What's going on?"
In the middle of the circle of residents stood a long table draped with a black cloth held down by the white candles placed in glass holders. Christian Standard Bibles had been placed at both ends, along with a wooden cross decorated with purple flowers and small stuffed animals.
People at the vigil had brought red and white roses and placed them on the table after it ended, along with smaller white candles in plastic cups some had held. The news was so fresh that the mourners were only just finding out the identities of some of the victims.
An exchange student from Pakistan, Sabika Sheikh; substitute teacher Cynthia Tisdale; and students Chris Stone and Shana Fisher were among those killed, family members and officials said.
Tisdale's niece, Leia Olinde, told the Associated Press that her aunt was like a mother to her and helped her shop for wedding dresses last year. "She was wonderful. She was just so loving," said Olinde, 25. "I've never met a woman who loved her family so much."
Houston Texans star defensive end J.J. Watt offered on Friday to pay for the funerals of all 10 victims. "Absolutely horrific," Watt said on Twitter earlier in the day.
Even as they mourned, locals were bracing for the inevitable debate on guns that they knew would follow. The suspect, 17-year-old Dimitrios Pagourtzis, who faces capital murder charges, was armed with a shotgun and a revolver that belonged to his father, authorities said. Gun ownership is embraced in the town, but several residents said responsibilities come with it.
"We have guns, but we have them locked up," Strickland said. She and others said they support placing metal detectors in the schools.
Tim Nicodemus, 47, an Army veteran who makes and sells gun holsters, said education about gun safety is key and he believes those who provide guns to people who shouldn't have them should be held accountable.
"Those are two steps, I don't see how they are wrong," Nicodemus said.
Santa Fe has canceled classes on Monday and Tuesday, and then there are just a couple weeks left before summer vacation.
When "something like this happens, you don't even want to send them back," said Kristi McFarland, 41, who along with her sister has children in Santa Fe's middle and high school.
"Our kids are required to go to school and we are required to send them," said Stephanie Falcon, 40. "But every day we keep them home, they are safe."