New bridge cements Russia's hold on Crimea
Comments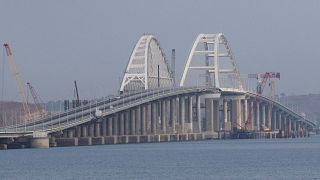 A new bridge linking the Crimean peninsula to Russia over the Kerch Strait has opened for ordinary traffic.
The 19-kilometre bridge took two years to build and cost more than three billion euros.
For President Putin, it's an illustration that Crimea has joined Russia for good. However, the Ukrainian government has reacted with anger.
President Petro Poroshenko said the bridge would be used by "Russian occupants when they have to leave the Ukrainian peninsula".
Russia's foreign ministry taunted Ukraine, its spokeswoman Maria Zakharova commenting that the opening was "a moment of great despair" for the political elite in Kyiv.
Russia annexed Crimea from Ukraine in March 2014 following a disputed local vote. Only a few Russian allied countries recognised the move.
The European Union and the United States imposed sanctions on Russia in response.