Germany walks delicate line in its bilateral relations with Russia
Comments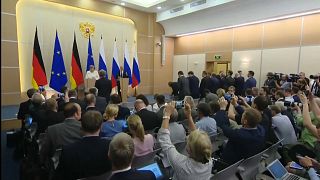 Last May the pair reportedly struggled to stay civil meeting here, but a year on Russian President Vladimir Putin greeted German Chancellor Angela Merkel to Sochi with flowers for their bilateral talks.
"We have a strategic interest in having good relations with Russia. Our civil societies have many connections and also this cooperation, German-Russian cooperation, has to endure very serious differences, sometimes very fundamental ones, but I repeat, if you want to solve problems, you have to talk to each other," said Angela Merkel.
Points of great difference remain, but they were brushed aside at the press conference.
"Germany has always been an important partner for Russia, and last year the turnover / bilateral trade between our two countries increased by 23% and at the beginning of this year it increased again by 13%," said Vladimir Putin. But his guest was determined to not let economic interests overrule all other consideratons.
The Nord Stream 2 pipeline project was on their agenda, with Angela Merkel insisting that despite it being in Germany's economic interests she wanted guarantees it would not cut gas transiting Ukraine.
Putin said he agreed that the project should not bypass Ukraine.