Zuckerberg to face MEPs in Brussels after data leak scandal
Comments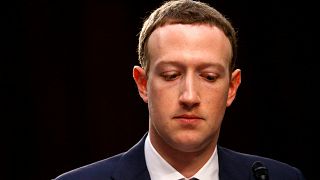 Facebook CEO Mark Zuckerberg will face MEPs' questions following the Cambridge Analytica scandal in the European Parliament, its president said on Wednesday.
"The founder and CEO of Facebook has accepted our invitation and will be in Brussels as soon as possible, hopefully already next week," said Antonio Tajani in a statement.
"I welcome Mark Zuckerberg's decision to appear in person before the representatives of 500 million Europeans. It is a step in the right direction towards restoring confidence," he added.
The 34-year-old will meet party leaders and members of the civil liberties committee, as well as the French President.
Later on Wednesday, Emmanuel Macron's office confirmed he will hold talks with the social network chief and over a dozen other technology leaders in Paris at his Tech For Good summit on May 23. Other invitees include the CEOs of Microsoft, IBM and Intel.
The developments come more than a month after Zuckerberg, who founded Facebook in 2004, was grilled by 44 senators during a two-day hearing in Washington.
The California-based technology giant has faced international scrutiny in the wake of the scandal, in which personal data from 87 million users were leaked from the site and allegedly improperly handled by political consultancy firm Cambridge Analytica.
In March, former staffer and whistleblower Christopher Wylie, who exposed the reported breach, said the data could have swayed the US presidential election in Donald Trump's favour and the EU referendum's leave vote in 2016.