Mahmoud Abbas lashes out at US after embassy move
Comments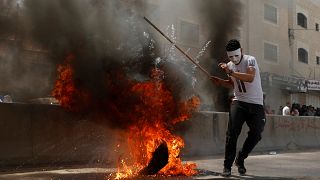 Palestinian President Mahmoud Abbas has announced three days of mourning after officials say Israeli soldiers shot dead dozens of Palestinians on the Gaza border.
Abbas lashed out at the US after it moved its embassy to contested Jerusalem on Monday, saying he "will not accept" any peace deal proposed by the Trump administration.
"This is not an embassy, it's a US settlement outpost, before that, we had an Israeli settlement outpost with the American support but now we have an American settlement outpost in East Jerusalem," Abbas said.
The bloodshed has drawn calls for restraint from some countries including France and Britain, but Hamas which runs the Gaza strip is showing no signs of listening.
"We say it clearly and let the world hear: resistance groups, mainly Hamas and Qassam Brigades, will not remain patient before this Zionist oppression that kills our people and destroy day and night," said Khalil al-Hayya, senior Hamas official.
The Palestinian ambassador to the UN has requested a special session of the UN Security Council urging the international community to intervene.