Increased volcanic activity on Hawaii raises escape fears
Comments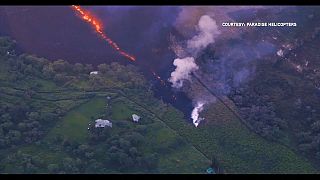 Lava flowing from giant cracks on the flank of Hawaii's erupting Kilauea volcano are threatening highways.
Officials are considering evacuating thousands of residents before escape routes are cut off.
Lava from a huge new fissure tore through farmland towards a coastal dirt road that is one of the last exit route for some 2,000 residents in the southeast area of Hawaii's Big Island.
Since eruptions began 10 days ago, dozens of homes have been destroyed.
The American Red Cross said 500 people sought refuge in its shelters on Sunday night because of worsening volcanic activity.