Thousands protest in Georgia after police arrest clubgoers
Comments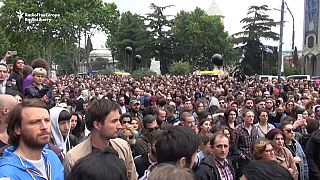 Thousands of protestors continued their demonstration on Sunday in front of the Georgian parliament.
It's after authorities had dismantled a protest camp outside the building on Saturday.
Demonstrators are protesting after police arrested eight people on Friday night in two popular clubs in Tbilisi on suspicion of drug dealing.
Demonstrators say it was a heavy handed operation and police used unecessary force.
They're demanding the resignation of the prime minister and interior minister.
Rally organizer Beka Tsikarishvili said: "Yesterday police kicked people out of clubs and were pushing them around all night. Many people including me were detained on administrative charges.
"Today our guest DJs, who came to Georgia, joined our protest. One popular group is from Giegling (party at Bassiani). So they joined our rally as musicians."
Dozens of armed police officers were deployed to remove the protest camp.
Three intoxicated demonstrators were detained during the operation.