As it happened this morning: Monday 14 May
Comments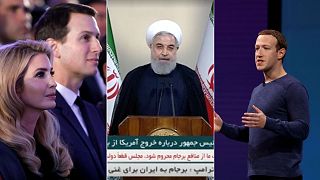 Here are the key stories we followed this morning, Monday, May 14:
US Embassy and protests: Protesters streamed to the Gaza border for the climax of a six-week demonstration as the United States prepared to open its embassy in Jerusalem.
Nuclear deal: Iran's foreign minister was in Moscow to discuss the US withdrawal from the nuclear pact.
French anniversary: Monday marked one year since French President Emmanuel Macron assumed office.
Indonesia attacks: A family of five launched a suicide bombing at a police headquarters in the Indonesian city of Surabaya after another family carried out attacks on three churches on Sunday.
Look back at how events unfolded over the morning in the blog below: