Around 15 people are killed after bomb blasts in Jalalabad
Comments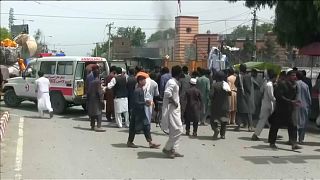 At least 15 people have been killed after multiple blasts and gun fire in eastern Afghanistan.
A car bomb exploded outside the entrance of a government office in Jalalabad which also wounded 42 people.
The capital of Nangarhar Province is near to the Pakistan border.
The main highway links Kabul with Peshawar through Jalalabad.
A gun battle continued for several hours with around a dozen attackers who ran into the building with machine guns and rocket propelled grenades.
Around 1,000 children were trapped in a nearby school as the siege continued most of the day.
The battle was over once the Afghan security forces killed the assailants.
Violence has escalated across Afghanistan since the announcement of the Taliban's annual spring offensive last month.
There's also been heightened security fears around preparations for the elections in October.