Iran has backed Syria's "right to defend itself".
Comments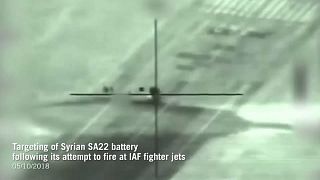 Iran has backed Syria's "right to defend itself".
It's after Israel launched heavy strikes on what it said was Iranian military infrastructure inside Syria.
Iran's foreign ministry condemned the attack.
It comes after, 20 rockets were fired at Israeli military positions in Golan Heights but Iran has neither confirmed or denied this.
Ahmed Khatami, member of the Assembly of Experts and Tehran's Friday Prayers leader: "... Israel, this occupying regime, will become sleepless and the nightmare will constantly haunt it so if it does anything foolish, we will raise Tel Aviv and Haifa to the ground."
The Israeli Defence Minister was asked, "the Iranian President yesterday told Merkel that Iran wasn't interested in escalation, what do you think about this message?"
Israeli Defence Minister, Avigdor Lieberman: "(This is an) important message, I hope it's not just words and is a real message. We are not looking for friction or further confrontation with anybody. We did not go to the Iranian border, they came here."
This wave of attack comes after President Trump pulled out of the deal to curb Iran's nuclear programme.