Probe underway after a Tesla electric car killed two teenagers in Florida
Comments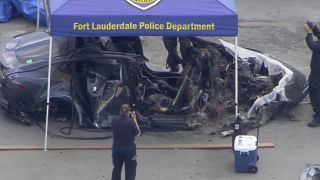 An investigation is underway after two teenagers died when their Tesla electric car crashed in Florida, and went up in flames.
The National Transportation Safety Board has sent a team to Fort Lauderdale.
Focus will be on the battery of a Tesla Model S.
It's the second time in the last two months that the agency has investigated this type of blaze.
Two 18 year olds were trapped and died and another teen was thrown from the car and taken to hospital.
The Californian company maintains its vehicles catch fire far less often than those powered by gasoline.