Tesla in fatal crash driving on autopilot
Comments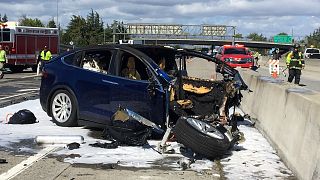 -
Electric car-maker Tesla says the autopilot system in a Model X vehicle was engaged at the time the vehicle was involved in a deadly crash.
The sedan hit a concrete divider and collided with two other cars on a road south-east of San Francisco, California, on March 23.
Flames engulfed the car after the battery caught fire. The 38-year-old driver later died in hospital.
Tesla said logs showed the driver had ignored earlier warnings to put his hands on the steering wheel, but it did not explain whether the system had detected the traffic barrier.
"The driver had received several visual and one audible hands-on warning earlier in the drive and the driver's hands were not detected on the wheel for six seconds prior to the collision," a statement on the Tesla website said.
"The driver had about five seconds and 150 metres of unobstructed view of the concrete divider with the crushed crash attenuator, but the vehicle logs show that no action was taken.
"Safety is at the core of everything we do and every decision we make, so the loss of a life in an accident involving a Tesla vehicle is difficult for all of us. Earlier this week, Tesla proactively reached out to the authorities to offer our assistance in investigating."
In an earlier statement, the company said it recorded "more than 200 successful Autopilot trips per day on this exact stretch of road".
"The reason this crash was so severe is that the crash attenuator, a highway safety barrier which is designed to reduce the impact into a concrete lane divider, had either been removed or crushed in a prior accident without being replaced."
Investigations into the incident continue.