Britain apologises for appalling treatment of Libyan dissident & his wife
Comments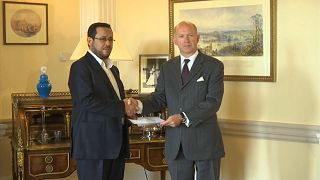 Britain's ambassador to Turkey has handed a copy of a letter of apology from Prime Minister Theresa May to Abdel Hakim Belhaj.
Belhaj is a Libyan dissident who was living in Thailand in 2004 when British intelligence helped the CIA station there, run at the time by Donald Trump's nomination for head of the CIA, to kidnap him and return him to the Libyan authorities.
At the same time in London the British Attorney-General was standing up in parliament to make the same "unreserved" apology and announce compensation for Belhadj's wife. Belhadj himself has refused financial damages. Fatima Boudchar was in the public gallery to hear the statement.
Afterwards she made a brief appearance for the press outside.
"We've waited for six years for this apology...my message to the world's governments and to supporters is to stand in solidarity with others suffering injustice, even if the are of a different religion or culture," she said through a translator.