Human enhancement and UAE's Mars mission: the Future Forum's hot topics
Comments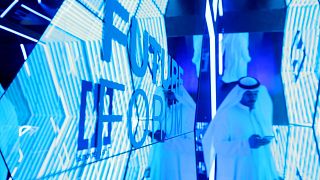 The first Future Forum session has been held on Tuesday 8th in Abu Dhabi, bringing together experts in the fields of technology, finance, diplomacy, transport, architecture and media to debate key developments in the region.
The event is organised by The National newspaper, one of the country's major publications, to celebrate its 10th anniversary and will involve a number of discussions over the next 12 months.
The first edition was held at Abu Dhabi's cultural district Manarat Al Saadiyat and hosted 13 keynote addresses, tackling themes such as human enhancement, the said 'fourth industrial revolution', drone usage, big data and blockchain.
The Emirati mission to Mars is all about the youth
Amongst the speakers was the UAE Minister of Advances Sciences, Sarah Al Amiri who spoke about the Emirates' Mars Mission set to launch in 2020.
The Minister said she worked alongside 50 young scientists and engineers. She highlighted the importance of raising the interest of the youth towards this mission, as future generations are to harvest the project's gains in upcoming years.
According to Al Amiri, one of the interests of the project is understanding the Martian geography and environment in order to better deal with the issues of climate change on Earth.
She also expressed her worry towards the urgency of solving these matters, adding that "collaboration in a global perspective" is essential.
"The future is about capitalising on the knowledge of humanity. It's about doing things better in a shorter amount of time," she said, adding "The future is also about global citizens with an impact within and beyond borders."
Microscopic vision and Alzheimer-prevention brain implants: Human enhancement is on its way
Another of the topics discussed at the event was Human Enhancement. The term is used to describe the science of using technology on people in order to improve their capacities and abilities.
The panel discussed the importance of understanding the human brain in order to develop devices that could not only enhance human capabilities but also contribute to the cure of certain diseases.
"How do you know if it [forgetfulness] is normal or if you have the early onset of Alzheimer's?" questioned Cori Lathan, CEO of AnthroTronix an engineering research and development company that focuses on 'human-centred technology'.
"Tracking your brain health is critical over time if you want to detect when a change occurs, such as due to a concussion, depression or the onset of Alzheimer's," she stressed.
According to Lathan, with the brain being closely analysed, devices such as vision implants that allow for "microscopic vision" or even brain implants that can restore memory and prevent Alzheimer's may be a possibility in the future.
She also believes that the development of medical science technology will shift its focus from diagnoses to well-being and prevention, "reinventing brain health".
While the subject raises a lot of scepticism and controversy, speaker Olivier Oullier, president of medical and technology company Emotiv defends the idea that Human Enhancement techniques can be compared to wearing glasses or drinking coffee, all of which improve people's performance in its own ways.
"How interesting is it that society is willing to accept some forms of performance enhancements, and not others," the neuroscientist said.
Drones for humanitarian aid and smart interconnected cities
Different uses for drones were also a hot topic at the event. In the 'Future of Skies' panel, expert Harrison Wolf, suggest drones could deliver humanitarian aid such as life-saving medical supplies to communities which are difficult to reach.
In the 'Future of Cities' Gregory Curtin, CEO of Civic Resource Group International, looked into the future of cities during a 'Fourth Industrial Revolution'. According to Curtin people and their urban surroundings will become increasingly connected through data and technology.
"People will be experiencing cities, and cities will be experiencing people," he said.
He described cities in the future to be smart, dynamic and 'alive'. For instance, advancements in technology could allow roads to sense when repairs are needed and automatically work towards this renovation.
Experts also highlighted how the lines will be increasingly blurred between the physical and digital world as humans and technology cooperate in solving a variety of problems in society, economy, education and health.