Two dead, 14 injured after train crash
Comments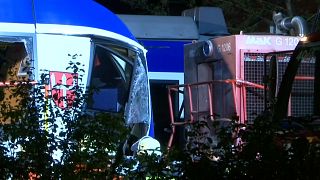 Police have said two people were killed and several injured when a passenger train crashed head-on with a stationary goods train in southern Germany last night, according to Deutsche Bahn and the Sueddeutsche Zeitung.
The driver of the commuter train is thought to be among the dead.
Around twenty people were on board the passenger train when the incident happened near the town of Aichach in the region of Bavaria.
Michael Jakob, a police spokesman, said: "At around 21.15 the crash happened between two trains near the station of Aichach. A regional Bavarian train from Augsburg ran into a goods train which was stationary on track two."
It's not yet known what caused the crash but police are looking into the speed of the passenger train and whether there was an issue with signals.