Melania Trump launches 'Be Best' campaign
Comments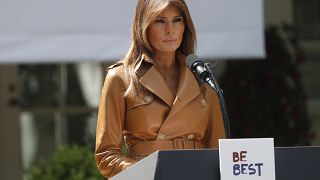 The first lady of the United States, Melania Trump has announced a campaign to teach children the importance of social, emotional and physical health.
From the White House Rose Garden Mrs Trump launched her "Be Best" initiative which includes helping children combat cyber bullying.
"As a mother and as first lady, Melania said, it concerns me that in today's fast-paced and ever-connected world, children can be less prepared to express or manage their emotions and oftentimes turn to forms of destructive or addictive behavior, such as bullying drug addiction or even suicide "
The first lady rarely steps into the spotlight and carving out a role for herself has taken longer than many of her predecessors.