Trump Iran decision expected on Tuesday
Comments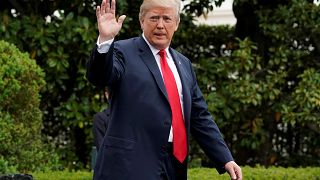 US President Donald Trump has announced the time that he will declare his decision on the Iran nuclear deal. It is five days ahead of his previous deadline.
On Twitter, he said he intends to tell the world what he'll do at 14:00 EDT on Tuesday (20:00 CEST). 
Trump has threatened to pull out of the deal, which provided Iran with relief from sanctions in exchange for limiting its uranium enrichment capacity, unless European leaders fix what he called its shortcomings.
In the run-up to the decision, British Foreign Secretary Boris Johnson appealed to Trump not to pull out of the Iran nuclear agreement, saying the deal may have weaknesses but they could be addressed given time.
French President Emmanuel Macron and German Chancellor Angela Merkel have also lobbied Trump not to withdraw from the deal. Macron warned it could lead to war.
The US president has described it as insane.