North Korea resets time following meeting with the South
Comments
By Sallyann Nicholls, CCTV with CCTV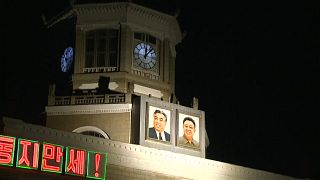 North Korea has moved its clocks forward to align itself with South Korea.
On midnight Friday (07:00 CEST), their time was shifted half-an-hour ahead, bringing them back into the same zone after three years. It comes days after the countries began dismantling loudspeakers which regularly blasted propaganda across their militarised border from 2016.
According to reports from the Korean Central News Agency, North Korean leader Kim Jong-un decided to make the change when meeting South Korea's President Moon Jae-in in the the demilitarized zone on April 27.
The adjustment will impact many aspects of the country, such as transportation or international settlements.
The two Koreas once shared an identical standard time. But on Aug 15, 2015, North Korea put its clocks back half an hour to establish "Pyongyang time", to erase the influence of Japanese colonists and celebrate the 70th anniversary of its liberation.
But following its return to the old time, some people think the change will have little impact on their lives.
"I heard that we will reset the time on May 5," said a worker at Ryuwon Footwear Factory. "The change of time will have a very little effect on me. I will continue working and live as per the government guidelines."