South Korea turns off propaganda speakers on North Korean border
Comments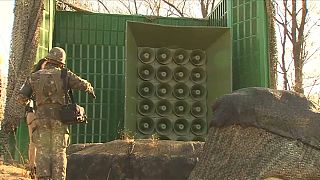 South Korea's military have turned off loudspeakers blasting propaganda across the highly militarised border with North Korea.
They have been playing on a regular basis since January 2016 and can be heard for miles.
The speakers broadcast constant streams of Korean pop music, news and weather forecasts - snippets of everyday life strictly off limits for North Koreans.
Though North Korea also engages in propaganda broadcasts of its own, it has long objected to the South's use of speakers and has at times responded to them with artillery fire.
But the switch-off is an apparent gesture of goodwill ahead of Friday's historic summit between North Korea's Kim Jong-un and the South's President Moon Jae-in.
It'll be the first time the two leaders hold face to face talks in more than a decade.
The topic of denuclearisation is expected to be high on the agenda.
North and South Korea are still technically at war since the Korean War ended in a truce in 1953.