Who are some of the best paid country leaders in Europe?
Comments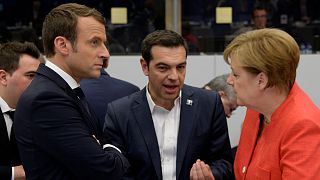 The leaders of Germany, Switzerland and Belgium are among the best paid in Europe, a new study has revealed.
Swiss President Alain Berset earns nearly €400,000 a year, while German Chancellor Angela Merkel and Belgian Prime Minister Charles Michel take home an annual basic salary of around €300,000.
Their wages were revealed in a study of countries in the Organisation for Economic Co-operation and Development (OECD), which was conducted by UK-based financial services company IG Group.
Who are the leaders with the biggest salaries?
Australia's Prime Minister Malcolm Turnball was the highest-earner of OECD countries studied with €428,306.
Donald Trump, the US' first billionaire president, came third with €324,564 and was sandwiched by Switzerland's Berset and Germany's Merkel.
Latvia's Prime Minister Maris Kucinskis was the lowest-earning leader with a basic salary of €48,396.
Who are the highest-earning monarchs?
Britain's Queen Elizabeth gets a sovereign grant worth €87 million, which dwarfs the earnings of other monarchs.
Belgium's King Philippe takes earns a more modest €11.7m, while Denmark's Margrethe II is handed €10.9m.
Spain's Felipe VI is the worst paid with €239,000 a year.
There are several monarchs in Europe whose salary is unknown or undisclosed, according to the study's authors.
They are Henri, Grand Duke of Luxembourg, Carl XVI Gustaf of Sweden and King Harald V of Norway.
Euronews contacted them to ask their salaries but they had not responded by the time of publication.
How does it compare with average wages?
The study also compared leaders' and monarchs' basic salaries with average wages in that country.
Mexico's president, Enrique Peña Nieto, is the OECD leader furthest from the earnings of the average worker.
He takes home a basic salary €135,000 that is nearly 11 times that of an average wage in Mexico.
Switzerland's President Berset and Germany's Merkel earn eight times as much — the highest of the European countries studied.
Spanish Prime Minister Mariano Rajoy and Slovenia's Prime Minister Miro Cerar were among the lowest in Europe, earning around two-and-a-half times that of an average salary.