Mahmoud Abbas, who is 82, re-elected as Palestinian president
Comments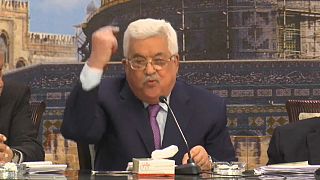 As expected, 82 year old Mahmoud Abbas has been re-elected as Palestinian president after a four day meeting in Ramallah.
He then immediately apologised for remarks he'd made at the start of the meeting that led many to accuse him of anti-Semitism.
He'd suggested that the historic persecution of European Jews was caused by their conduct and not by their religion.
Israel's defence minister rejected the apology calling Abbas "a wretched Holocaust denier."
Also on Friday, Israeli soldiers fired live rounds at Palestinian protesters on the Gaza-Israel border.
After five weeks of border protests the troops have shot dead 43 Palestinians.
Youths from Gaza have been throwing rocks and fire bombs at the troops.
Two thirds of the Palestinians in Gaza are refugees who want to return to their old famiy homes which remain occupied by Israel.
Two thirds of Gaza's two million Palestinians are refugees, and the protest has revived their longstanding demand for the right of return to their former family homes, which now lie in Israel.