Basque separatist group ETA announces formal end to fight for independence
Comments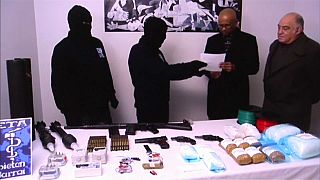 Basque separatist group ETA says it has disbanded, ending a 60-year fight for an independent state in northern Spain and southern France, during which killed around 850 people.
A confirmation letter was read out at a conflict resolution group based in Switzerland.
David Harland, the Executive Director of Centre for Humanitarian Dialogue, read the letter out to reporters in Geneva.
"ETA has decided to end its 60 years of existence. The decision has been taken by the entire membership of the organisation. As a consequence of this decision ETA has completly dismantled all of its structures. ETA has put and end to all political activities. It will not longer express political positions, promote initiatives or interact with other actors,"
"We have made this, our last decision, in order to foster a new historical phase," said the letter, signed Euskadi Ta Askatasuna (ETA - Basque Country and Freedom in English).
"ETA was born from the people and now it dissolves back into the people," it read.