Trump fury at leaked legal notes he claims exonerate him of collusion
Comments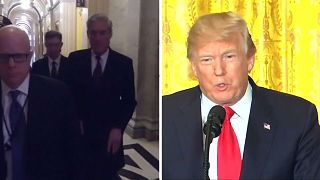 A former lawyer for President Donald Trump has revealed that Special Counsel Robert Mueller, in a March meeting with Trump's legal team, raised the possibility of issuing a subpoena for Trump if he declines to talk to investigators in the Russia probe.
A list of 49 questions Trump's lawyers expected him to be asked was drawn up, and has been leaked.
While questions included plenty on Trump's Russian relations, there was no question directly about collusion.
Trump seized on this in a tweet, claiming how could he obstruct justice if no collusion took place.
Put aside the fact that the questions were drawn up by Trump's lawyers. The inquiry appears determined not to be deflected from its core mission; just how much, if at all, is Trump beholden to Russian President Vladimir Putin?