Pompeo agrees with Netanyahu and claims Iran is lying about its nuclear programme
Comments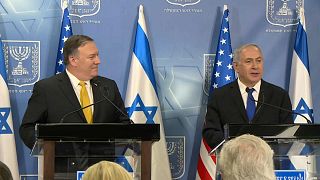 Secretary of State, Mike Pompeo commented on the Iran deal on Monday. He says the documents obtained by Israel from inside of Iran "show beyond any doubt that the Iranian regime was not telling the truth."
"This will, I think, spell out, the scope and scale of the program that they undertook there. And I think makes very clear, that at the very least, the Iranians have continued to lie to their own people," he said.
The EU and other signatories say Tehran is sticking to the deal, and the information unveiled by Israeli Prime Minister Benjamin Netanyahu was known when the deal was signed in 2015.
The EEAS released a statement:
"#IranDeal isn't based on assumptions of good faith or trust. It's based on concrete commitments, verification mechanisms and a very strict monitoring of facts, done by @iaeaorg"
US President Donald Trump has until May 12 to sign off on continuing the accord, and until now has given every indication he will scrap it.