Funerals held for victims of Kabul bomb blasts
Comments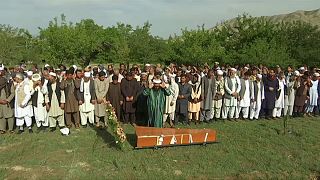 They were in the Afghanistan to report the news. Then they became the story.
Nine journalists were among victims of a double suicide bombing that claimed the lives of 25 people.
As the reporters rushed to the scene a of bomb blast, a second was set off.
Among the dead was AFP photographer Shah Marai. He leaves behind six children, including a newborn baby.
The BBC's Ahmad Shah was also killed. The 29 year old had been on his bicycle when the attack happened. He was taken to hospital, where he died of his injuries.
The AFP news agency said the second blast had deliberately targeted the group of journalists.
One man we spoke to said he had lost his cousin Salim, who worked for Mash'al TV.
As the terror unfolded locals desperately tried to find news of their loved ones.
At least 45 people were wounded in the twin attacks, according to a Kabul police spokesman, who added that four policemen were among those killed.
The attack was the latest in a relentless string of deadly large-scale bombings and assaults that have struck Kabul and elsewhere in Afghanistan so far, this year.
The so-called Islamic State group has claimed responsibility for the Kabul bombings in a statement posted online, saying it was targeting the Afghan intelligence headquarters.