Fire destroys office block in heart of Sao Paulo
Comments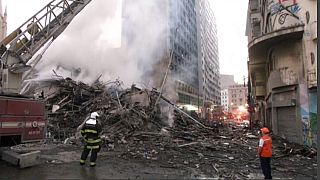 At least one person has died and several others are missing after a 26-floor building in Brazil's largest city caught fire.
The abandoned office block in Sao Paulo was occupied by squatters.
The man who died was on the point of being rescued when the building collapsed.
Sao Paulo is Brazil's financial capital but suffers huge economic inequality, with poor families often squatting in disused buildings or plots of land.
''I just went up to the 10th floor,'' one of the squatters said. ''I banged on every door, saying fire, fire, fire, and ran. I looked back and saw people running after me. So I got a little less worried! And I ran out until the sixth, so I could call the rest of my people. I got my people down and then I saw the fire consume the building.''
More than 150 firefighters battled the blaze, which is believed to have been caused by a gas explosion.
Sao Paulo's State Governor said the squatters had refused to leave the building and "it was a tragedy waiting to happen''.