UK home secretary Rudd resigns amid immigration scandal
Comments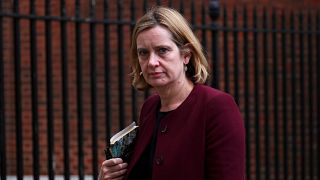 Rudd had faced calls to stand down as UK home secretary after she said the government didn't have targets for deporting people — only for new evidence to emerge contradicting her claims.
"I feel it is necessary to do so because I inadvertently misled the Home Affairs Select Committee over targets for removal of illegal immigrants," Rudd said in a letter to Prime Minister Theresa May. "I should have been aware of this, and I take full responsibility for the fact that I was not." May accepted her resignation.
The departure of one of May's closest allies is a blow as she navigates the final year of negotiations ahead of Britain's exit from the European Union in March 2019. It also deprives the cabinet of one of its most outspoken pro-European members.
For two weeks, British ministers have been struggling to explain why some descendants of the so-called "Windrush generation", invited to Britain to plug labour shortfalls between 1948 and 1971, had been denied basic rights.
The Windrush scandal overshadowed the Commonwealth summit in London and has raised questions about May's six-year stint as interior minister before she became prime minister in the wake of the 2016 Brexit referendum.
"The Windrush scandal has rightly shone a light on an important issue for our country," Rudd said in a resignation letter to May.
Rudd, who was appointed Home Secretary in 2016, said voters wanted those who had the right to reside in Britain to be treated fairly and humanely but also that illegal immigrants be removed.
The opposition Labour Party, which had repeatedly called on Rudd to resign, said May was responsible and should explain her own role in the government's immigration policies.