EU-US: Trade war or no trade war?
Comments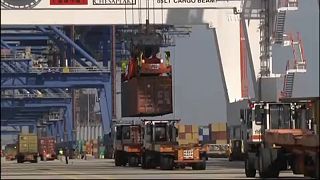 All eyes in Brussels are on Washington as a 1st of May deadline looms - for the EU to win a reprieve from the Trump tariffs on steel and aluminium.
The European Commissioner for Trade, has been speaking to US Commerce Secretary, Wilbur Ross.
But a Commission spokesperson gave little away on the EU's position.
"The only thing that I can tell you today is that we are patient but we are also prepared," Margaritis Schinas told reporters. 
Those preparations include an arsenal of retaliatory measures, targeting American goods in politically sensitive states.
Goods include sweetcorn and cranberries, along with Kentucky bourbon, cigars, jeans and motorcycles.
The EU says that it will only discuss terms of trade with the US once it has received a permanent exemption to the steel and aluminium tariffs.
This apparently angered Trump who prefers to negotiate bilaterally with the key member states.