Armenia's man of the hour, Nikol Pashinyan
Comments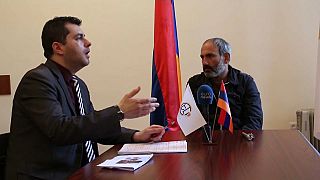 One of the newsmakers of the moment is Armenian opposition leader Nikol Pashinyan, who at the head of a people power movement has forced the resignation of the former president and prime minister, and looks likely to topple the government.
Euronews' Apostolos Staikos has been able to get one of the first interviews with him.
"It seems to be the end of this political battle, and it looks like you have won. How do you feel?"
Nikol Pashinyan:
"You know, I think it is the people who have won here, the Armenians who share our ideas. We need change and we need a new government."
Apostolos Staikos:
"What are you going to do to win support of the largest party, the Republicans, and their parliamentary majority?"
Nikol Pashinyan:
"I think that's a question for the Republican's agenda. I think they need to evaluate the situation, Armenia's political situation, and then draw the right conclusions."
Apostolos Staikos:
"Imagine that, on Wednesday, you are Armenia's new prime minister. What will be your priorities, your first measures?"
Nikol Pashinyan:
"The first thing to do will be to prepare for truly free early elections that are completely legal and democratic. We think they need to be as soon as possible. But we understand we also need to reach some sort of concensus with the other parties to organise elections. I repeat, these need to be organised as quickly as possible, and we have to get all-party support".
Apostolos Staikos:
"What if the Republican party says no? If it refuses to support you because it doesn't believe in you? Will you continue to demonstrate?
Nikol Pashinyan:
"I do not think that our people are ready to accept any other solution. They want to see their candidate as prime minister, and this objective has to be realised."