UN Security Council envoys visit Bangladesh and Myanmar
Comments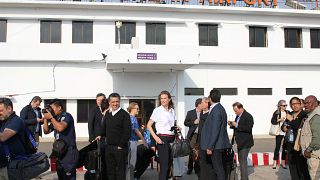 UN Security Council envoys began a four-day visit to Bangladesh and Myanmar on Saturday to see firsthand the aftermath of a Myanmar military crackdown that Britain, the United States and others have denounced as ethnic cleansing of Rohingya Muslims.
They are due to meet Bangladesh Prime Minister Sheikh Hasina and Myanmar's de facto leader Aung San Suu Kyi and travel to Rakhine state, where the violence erupted eight months ago. Myanmar denies the accusations of ethnic cleansing.
Rohingya insurgent attacks on security posts in Rakhine on August 25 sparked the military operation that has sent nearly 700,000 Rohingya fleeing to camps in Cox's Bazar in Bangladesh. Council envoys will visit those camps on Sunday.
The visit puts a global spotlight back on the crisis amid warnings by the United Nations, aid groups and Myanmar's panel of international advisers on Rohingya issues that the coming monsoon season would likely worsen the humanitarian situation.
"We have to push to see how we can speed up the process of the implementation of the bilateral agreement between Bangladesh and Myanmar," said Kuwait's U.N. Ambassador Mansour Ayyad Al-Otaibi.
Myanmar and Bangladesh agreed in January to complete a voluntary repatriation of the refugees within two years.