Pashinyan meets with president over bid to become PM
Comments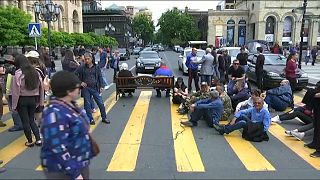 Anti-government protesters in Armenia took to the streets again on Sunday, heeding calls from opposition leader Nikol Pashinyan for further non-violent demonstrations.
Meanwhile, Pashninyan says he has met with the country's president and asked for support in his bid to become prime minister.
Pashniyan's supporters are demanding that he is elected prime minister despite him not having the support of parliament.
Protests have continued for almost two weeks following corruption allegations surrounding the ruling Republican Party.
Attempts by the government to calm the protests with the resignation of Serzh Sargsyan, who had been appointed as prime minister after being president for 10 years, proved insufficient.
Instead, Pashinyan called on supporters to step up their protests in the capital, Yerevan, on May 1st when the new prime minister is due to be chosen.
Armenian police have not broken up the demonstrations and some members of the army have joined in with them.
As well as marches, protesters blocked roads in the capital by sitting on crossings to obstruct traffic.